Law & Disorder
Tracking more than a quarter century of high-profile school shootings and the legislative efforts to curb the violence.

|
KEY: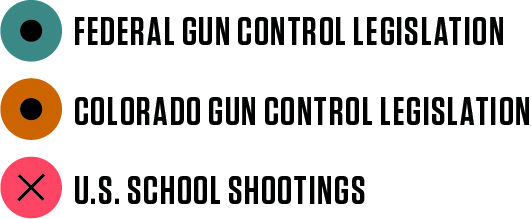 The Brady Handgun Violence Prevention Act becomes law. The legislation requires federally licensed firearms dealers to conduct background checks on buyers and imposes a five day waiting period on purchases. It doesn't mandate checks on private transactions, including sales at gun shows.

President Bill Clinton signs the Public Safety and Recreational Firearms Use Protection Act, more commonly known as the federal assault weapons ban. The law, which would have to be renewed by Congress 10 years later, prohibits civilian use of certain semi-automatic firearms and large-capacity ammunition magazines.

A 14-year-old student at Frontier Middle School in Moses Lake, Washington, kills three people with his father's hunting rifle and two handguns.

Three students die and five more are injured in a shooting at Heath High School in West Paducah, Kentucky. The perpetrator, a 14-year-old student, uses a shotgun, a rifle, and a pistol he took from his parents and a neighbor.

Two students (13 and 11 years old) fatally shoot four classmates and a teacher at Westside Middle School in Jonesboro, Arkansas, with nine weapons they'd retrieved from the houses of family members.

Thirteen people are killed and 24 others are injured in a massacre at Columbine High School near Littleton. The shooters—two seniors enrolled at the school—use a rifle, two sawed-off shotguns, and a semi-automatic pistol (illegal at the time, per the 1994 federal legislation).

A flurry of gun control bills are introduced after Columbine. Some, such as a reauthorization of background checks, are approved by Colorado lawmakers. Most don't pass—including requirements for safe storage of guns and an increase in the age for buying a handgun. An attempt to force private dealers at gun shows to conduct the same background checks that licensed dealers perform fails.

SAFE Colorado, an organization that works for stricter gun laws in the state, helps put a measure that closes the gun-show loophole on the November ballot. Roughly 70 percent of Colorado voters approve the law.

Governor Bill Owens signs the Colorado Concealed Carry Act. This law makes Colorado a "shall issue" state, meaning sheriffs' offices must issue concealed weapons permits to applicants who are over 21 years of age, pass a background check, and obtain a certificate showing they have proficient skills with a firearm (among other criteria).

Few gun control measures are introduced in the Legislature. The only firearms laws enacted improve how the state passes information to the federal background check system and grant reciprocity to concealed-carry permits from select states.

The federal assault weapons ban expires. President George W. Bush and Congress blame each other for failing to rally support for its renewal.

Bush signs the Protection of Lawful Commerce in Arms Act. The law provides broad immunity for gun manufacturers and dealers in federal and state courts. "I would like to thank President Bush," said Wayne LaPierre, the National Rifle Association's executive vice president, "for signing the most significant piece of pro-gun legislation in 20 years into law."

A 53-year-old man takes six female students hostage and sexually assaults some of them at Platte Canyon High School in Bailey. The attacker ultimately fatally shoots a 16-year-old female student with a pistol.

An undergraduate student at Virginia Tech in Blacksburg, Virginia, kills 32 people and wounds at least 23 others with two semi-automatic pistols.

The bipartisan NICS Improvement Amendments Act reinforces federal and state record keeping for use in background checks. Specifically, the act helps determine who is ineligible to possess firearms due to mental illness or domestic violence issues. The bill passes unanimously.

Twenty children and six adult staff members are killed and two others are injured during a rampage at Sandy Hook Elementary School in Newtown, Connecticut. The shooter uses an AR-15-style rifle and two semi-automatic handguns. A shotgun is found in the shooter's vehicle.

Fourteen gun control bills are up for consideration during the 2013 legislative session. A Democratic majority ratifies five, all of which are meant to curb gun violence. Two are particularly notable: one prohibiting the sale, transfer, and possession of ammunition magazines larger than 15 rounds and another mandating universal background checks. After one bill-signing ceremony, Sandy Phillips, who lost her daughter in July 2012 when a gunman entered an Aurora movie theater brandishing an AR-15-style rifle with a 100-round magazine and killed 12, tells Governor John Hickenlooper, "Thank you so much. You're leading the entire country."

Numerous bills are introduced in the aftermath of the tragedy at Sandy Hook. The Manchin-Toomey Bill would've required background checks for private sales at gun shows. A new assault weapons ban attempted to renew the landmark 1994 law. And another bill tried to increase the penalty for illegally buying a gun for someone else. On April 17, all of the propositions are voted down, prompting President Barack Obama to call it "a shameful day in Washington."

Colorado Democratic state Senators Angela Giron and John Morse are voted out in special recall elections due to their support of the gun control laws passed in the 2013 session. The NRA spends $362,000 to help oust the pair.

An 18-year-old student enters Arapahoe High School in Centennial with a shotgun, a machete, and three Molotov cocktails. The only student shot dies from her injuries eight days later.

Republican lawmakers repeatedly try to repeal the 2013 legislation. Multiple proposed repeals—three in the 2018 legislative session alone—are defeated.

Following an attack by a white supremacist on a black church in Charleston, South Carolina, lawmakers introduce a measure to close what many see as a loophole that allows federally licensed firearm dealers to proceed with a sale if the FBI doesn't complete a background check within three days. (In February 2019, the U.S. House of Representatives approves a new version of the bill; however, it is unlikely to be brought for a vote in the Senate.)

Members of both parties introduce legislation to ban "bump stocks." The weapon enhancement—used during a mass shooting at a music festival in Las Vegas days earlier—accelerates a semi-automatic weapon's rate of fire. The bill stalls in committee.

Republican Senator John Cornyn of Texas introduces a bill that incentivizes federal agencies to be more diligent about putting names in the background check system after a clerical error allowed a man who went on to kill 26 people at a church in Texas to purchase a gun. In March 2018, the bill becomes law after it is attached as an amendment to an approved spending bill.

Using an AR-15-style rifle, a former student kills 17 people and injures 17 more at Marjory Stoneman Douglas High School in Parkland, Florida.

A so-called "red flag bill" fails to make it out of committee in the state Senate after passing the House with a 37-23 vote. The law would've given police or family members the ability to seek a court order to temporarily remove firearms from someone at risk of harming themselves or others.

Ten people are fatally shot and 13 others wounded at Santa Fe High School outside of Houston, Texas. The two guns used—a pump-action shotgun and a revolver—were legally owned by the 17-year-old perpetrator's father.

The Trump administration issues a federal regulation banning bump stocks. Just weeks before the new rule was announced, the president said, "I've told the NRA. I've told them: Bump stocks are gone."

Representative Alec Garnett reintroduces his red flag bill. The House approves the bill on March 4.

The U.S. House of Representatives passes gun control bills that would constitute the biggest expansion of background checks in 25 years. Experts say the legislation is unlikely to make it through the U.S. Senate.

Colorado's red-flag bill passes the Senate. The bill heads back to the House to approve Senate amendments before going to the desk of Gov. Jared Polis, who supports the measure.
---
This story is part of 5280 Magazine's special issue dedicated to the 20th anniversary of Columbine. Read more about the project here.
---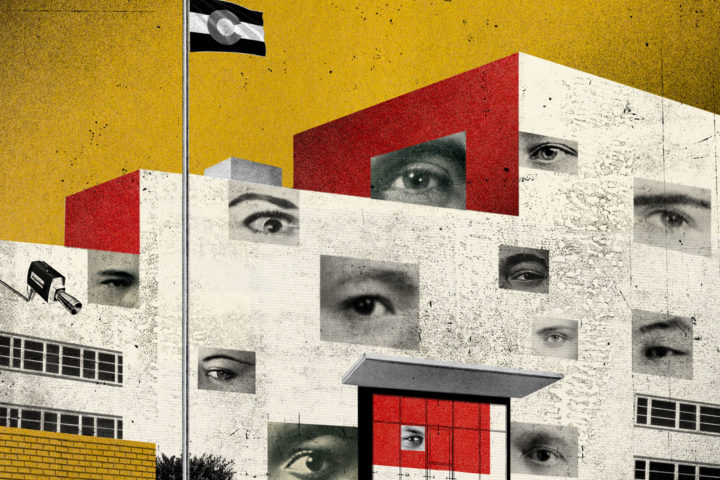 NEXT: Columbine changed more than just how we respond to school shootings. It also altered how we try to prevent them.